Featuring the soaring vocals of soprano Elizabeth Robbins, the masterful fiddle and dynamic harmonies of Reva Paget, and backed by the solid guitar and bouzouki of Michael Robbins, this trio plays a wide range of Irish, Scottish and original music.
Elizabeth Robbins is beginning her Senior year at Berry College as a Music Education major. She shares her musical talent as a teacher of Kinder Music in Rome and developed the Berry College A cappella Chorus – the first of its' kind on campus.
Reva Paget holds a Masters degree in Musical Performance from Arizona State University has extensive experience performing as well as teaching fiddle and violin. Reva has also added her amazing fiddle style as a member of the BorderCollies Band.
Michael Robbins continues to operate RobbinsNest Studios, teach guitar and perform with the BorderCollies as well as several other Celtic acts in Georgia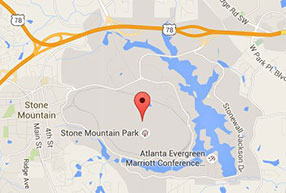 Directions to Stone Mountain Park
Stone Mountain Park
1000 Robert E. Lee Blvd
Stone Mountain, GA. 30083