Based in Jacksonville Beach, Florida, Rathkeltair has been on the road full-time since 2003. Highly regarded for its extraordinary energy, showmanship and professionalism, Rathkeltair enjoys a loyal and rapidly expanding community of friends and fans.
Rathkeltair features three veteran road-warriors from England, Northern Ireland and America. Noted singer-songwriter/guitarist Trevor Tanner, former front man for The Bolshoi, a mainstay of the UK club scene at the height of the MTV era and the subject of a rabid international underground cult following, writes most of the band's original material. Drummer Nick Watson (formerly of 7-time World Champion Field Marshal Montgomery Pipe Band) and bagpiper/multi-instrumentalist Neil Anderson are two of the original members of Clan Na Gael (7 Nations), the NYC-based band that kicked off the "kilt rock" phenomenon in the US in the mid-90's and inspired many of the groups working in that genre today.
Rathkeltair's name-sake is a famous historical site in County Down, Northern Ireland, also known as the "mound of Down." Besides being close to the village where Nick was born and raised, the band chose the name as a tip of the hat to its Celtic heritage.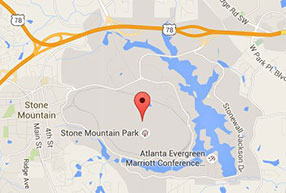 Directions to Stone Mountain Park
Stone Mountain Park
1000 Robert E. Lee Blvd
Stone Mountain, GA. 30083